Assoc. President
5/29/23
Good afternoon.
Memorial Day is here, a time to reflect and say thank you to the men and women that have served and those that have made the ultimate sacrifice for our country. This past week has been complete with much needed rain. Beth and I took the opportunity to set on the porch and watch it rain and listen to music.  We were excited to see a rainbow and interesting cloud formations.
The kitchen continues to move forward, the cabinets will be complete today with the exception of a few pieces that were damaged in shipping.  The countertop installation will start Wednesday. Last but not least the plumber will be here on Thursday, to Install the new faucets. The photo below will give you a glimpse of the progress. Special thanks to all the workers and the committees for their efforts. 
it never gets old being a part of progress and positive change.  I thank all of you for giving me this opportunity. Please make sure to say thank you to those family and friends that have served our great country.  Have fun hug each other and make great memories, until next time have a great day.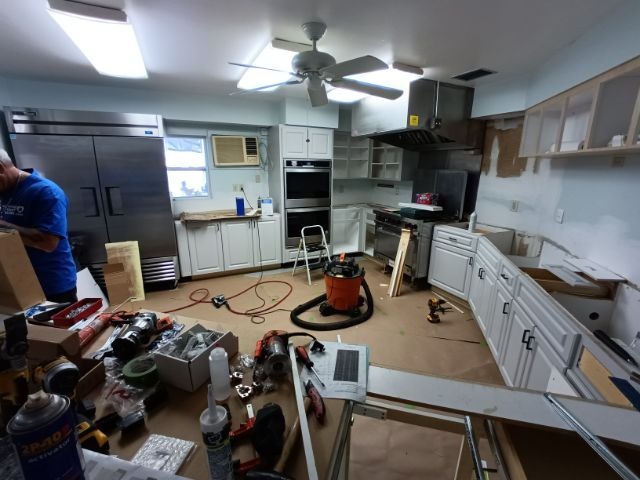 5/22/23
Good morning, I hope everyone is doing well. It has been very exciting around here, The roads are complete with new markings.  The cabinet supplier called and moved the installation date up to 5/27/23. A big thank you to Curt Miller for his help keeping the kitchen project moving,
although I have been busy, Beth and I have been able to enjoy the pool and a riverwalk stroll last week.
I also got a chance to respond to suggestions received. I was proud when I noticed that i was able to respond to them with a positive solution. With that said I want to give special thanks to everyone involve in making the suggestions a reality. Unfortunately, I noticed that allot of them did not have a name or email address, so I was unable to share our progress.  I know that some are skeptical about providing contact information. I understand your concern. I want to assure you that your suggestions are confidential.  I encourage everyone to continue your participation in this process so that the board can address the issues that are important to you.
Until next week, have fun and enjoy your adventures.



5/15/23

Good morning Tree Lakes and a special shout out to the mothers that are reading this.  I hope your mothers day was special and jammed packed with love laughter and memories.
Last week was exciting, complete with beautiful beach days, and fun with friends. The park projects are going well.  The sealing of the roads will be complete today and the clubhouse kitchen is ready and waiting for the cabinet team scheduled for June 3rd. I scanned Facebook yesterday and was glad to see post and photos of Tree Lakes folks having a great time exploring and enjoying their time away from the park.  Beth and I are enjoying our time here but I must say I am getting excited about traveling again this year. We have several stops planned.  Although I am sure I will have fun in the present, thoughts and ideas for improvements for the park, and the path forward will not be far away.  Some would argue that is the burden of the job, for me it is the opposite. Planning, and watching the plan's become reality is the reward. 
Having a purpose is the fuel that keeps me moving forward. I am honored that I have the opportunity to put my energy into a wonderful place like Tree Lakes.
Remember everyday is a new start for everyone the only challenge is to be a better person than you were the day before.
Remember to hug each other and laugh a lot.



5/8/23
Good morning 
another great day at Tree Lakes.  The weather is great, and the evenings are complete with beautiful views of stars and glowing moon views. I must admit looking around at the empty homes makes me miss you all.  I hope that your adventures are going well. 
The road team is moving along as scheduled.  Today they are scheduled to start Palm Lane and Lakeside Drive. Thanks everyone for your patience during this process.  With the park slowing down Beth and I have been enjoying beach visits and the occasional boat ride with family.  Make sure to take a look at her Facebook page she always posts some good pictures.  
I am so glad to have the opportunity to be a part of Tree lakes and enjoy the surrounding area. 
Please remember to take the time to enjoy everything around you no matter where you are.
Until next week please be safe, hug those around you and laugh a lot and make memories.

5/1/2
Good morning, Tree Lakes family, I hope this note finds you well and having fun.  The park is taking on a different personality as the majority of the residents have left for their summer adventures.  But that doesn't mean that it is any less beautiful.  This morning I almost had to move the squirrels out of the way while walking to the office. They seemed to acknowledge me coming but much too busy to give me the right of way.  Also, the eagles have been feasting on the bounty in the lake.  More than once in the last few weeks I have observed one of them with a fish that was almost too large to travel with.
the lake is looking great, Thanks to the hard work of the lake committee chaired by Don Brewer and Mary Podobinski. 
I would like to take this opportunity to give a shoutout to our full timers.  This group keeps the park moving when the rest of us are away, for that I say thank you.
We are making progress with the Kitchen renovation, the floor is installed and waiting on the counter tops and cabinet work.  The road resurfacing will start today.  both of these projects have a inconvenience factor built in to them. I am confident that we can work through this with minimal difficulty.
Lastly I cant help but be surprised every time I go to town at how fast everyone is driving and then I look down at my speed and realize that I am right in the mix.  At that point I try to remind myself that I am retired and living the best years of my life, why not slow down and enjoy then.
With that said, when you are out and about your summer time adventures it never hurts to remind yourself to slow down and enjoy every detail. 
please stay safe and keep me posted along the way.




4/24/23

Good morning, Tree Lakes family. 
Another great morning, this morning started out with a rain shower that was much needed.  This past week several people have left the park for the summer.  I must say I miss them already.  I look forward to their return and the surprise when they see the new kitchen renovations and the newly sealed roads. 
I have had concerned owners approach me about the alligators.  We are in the process of removing them.  Luckly Doug found a trapper that will relocate them to another area, and that is a good thing.
To those of you traveling, please be safe and make sure to share photos and stories.
Make sure to have fun and laugh a lot!


4/17/23
Good afternoon Tree Lakes family. We are getting some much-needed rain and that is a good thing. For some reason is seems that the wildlife is moving around more than usual. Last week Beth and I observed an eagle eating a large fish that he captured.  And this morning I was made aware that our large alligator was enjoying a walk in the rain. Unfortunately, it may be time to have this big guy taken from the park.  I have asked Tessa to contact the people for this task.  I reluctantly do this because I know that is the end of the line for the animal. That being said, safety is first!  I for one will miss the fascination of watching him.
I have noticed everyone preparing for the road work, thank you!
The park is slowing down as people move to their summer homes.  Although I don't like seeing everyone leave, I look forward to seeing photos and hearing stories about your adventures and fun.  I am sure you will be surprised when you return to see how the park has changed with the completion of new road surfaces, new kitchen cabinets, countertops, floor and paint.  
I have enjoyed being a part of the progress and the excitement.  
Please take time to make memories and laugh a lot and love one another.
Safe travels.

4/10/23
It is a great day in Tree Lakes, I hope everyone is well and having a good time.  I notice that several people have left the park and that is bittersweet.  Although we are reaching the end of the season our community is still active.  People walking, laughing and sharing good times with others.  So great to see and hear. At the same time we are making progress with improvements. The sealing of the roads is scheduled, with that said please make sure you know the date for your road and prepare for it by making sure that cars and outdoor objects are moved as far as possible from the work path. The sequence of the work information is available in the office and hanging in the post office for your review.
Beth and I are looking forward to our travels this summer. We always enjoy seeing new places and meeting new friends and reuniting with old ones.  We will begin our adventure the first week of July and return home the first week or two of October.
I am sure Beth will be posting our experiences on Facebook so make sure to keep up with us and keep us posted on what you are doing.
Until next week remember laugh a lot and love each other.



4/3/23
Good afternoon, Tree Lakes family!  Last week while walking to and around the pool I was amazed at the amount of wildlife I saw. And then yesterday, while playing shuffleboard with friends, we spotted a pair of yellow crested night herons.  It is exciting that our lake is providing a sustainable habitat for these animals.  Remember we do not have the responsibility to feed them.  The only responsibility we have is to slow down, watch and enjoy them.
    We have finalized the start date and sequence for the road sealing.  Please review this information on the bulletin boards around the park and make sure all cars are out of the way at your designated date. As I have said in the past, please shift your focus from the inconvenience of this process to the finished product. 
I look forward to seeing you at the next Workshop and Board Meeting.  Remember your input is key in directing the board and committees on improvements and issues in the park that need to be changed.
     Lastly if you are leaving this week please be careful and enjoy.
Until next week, please take the time to love each other, laugh a lot and make memories.
 
Association President 
Ron Chapman

3/27/23
Good afternoon, it is a great day in Tree Lakes.   We are moving forward with the park light installation, special thanks to Dave Berkley, John Martucci and Mike Catella for their hard work and expertise. This project was started by the past board members under the direction of John Martucci and continued by the facilities and grounds committee directed by Dave Burkley.  This is an ongoing project that when complete will improve visibility for those enjoying a walk or bike ride in the park.  An activity that I would strongly recommend for those that can.
    I am pleased to say that I picked up the memorial flag today and it looks great!  I have asked Tessa to delay the hanging of the new flag until we get the ropes replace on the larger flag poles.  This is scheduled sometime this week.  I look forward to getting all the flags in place and enjoying the view.
I am working with our team and the supplier to finalize the sequence of the asphalt sealing project. I will provide more information at the workshop and the board meeting.
Lastly a few board members and I were privileged to attend a seminar dealing with Co-op, HOA, and Condo management.  This was informative and helpful.  During a question-and-answer session with the legal panel, the audience pointed out several scenarios of underperformance and miscommunication, by management companies and contractors in their communities.  At that point I realized how blessed our community is.  Thanks to all of you for your involvement in the day-to-day operation. 
In closing I would like to congratulate all of the new owners and say welcome! I look forward to seeing you out and about.  Remember to laugh a lot, make memories and enjoy the beautiful surroundings and have fun. Until next time.

Ron Chapman
Association President 
 
 


 


3/20/23
Good morning, Tree Lakes I need to start out by saying that I am excited about our progress reviving the standing committees. By the end of this week, I will have met with each committee prior to them appointing a chairperson to discuss and define roles and responsibilities. I am optimistic that when these committees are up and running, the Tree Lakes family will see an improvement in communication and planning throughout the park. in the long run adherence to this structure will allow the finance committee to plan for infrastructure and facilities expense.
     In closing I hope all of you were able to see the rocket launch last Tuesday. It was a beautiful sight from the pool deck. I thought to myself afterword so many times i spend my time looking down making sure I see the obstacles in front of me.  The downside of that is I must miss several wonderful things above me.
The moral to that story is stop and look up and see the beauty.





3/13/23
Good afternoon! Today is another great day at Tree Lakes. I want to thank all of you for working together to make Tree Lakes a wonderful place to be. Along those lines the board is working to identify and establish the necessary standing committees for our community. I am excited to say that we will be motioning in some new committee members in at the board meeting this Thursday. Please come and welcome them and thank them for committing their time and effort to maintain and improve our community.
Also, I am pleased to announce the gate equipment is installed and working well. I know the gate being closed is a change for all of us. Please be patient with yourselves and others as the new routine becomes a habit. if you have questions about changing your gate code, operating the gate remotely or getting a new access button please come to the office and talk with Tessa. She will be glad to help you.
Continue to stay involved!  Have lots of fun.  And don't forget to look around and take in the beauty.
Until next time.
Sincerely,
Ron Chapman, Association Board President   



03/06/23 
Good afternoon, Tree lakes family. I hope everyone is enjoying the great weather and the magnificent sunsets.
I am sure it is difficult to think about leaving.  But the truth is, the time is coming quickly.  So please consider how you are going to prepare for the off season. Everyone is aware of the unpredictability of the weather.  With that said please make sure that all loose items are properly stored, and awnings are down and secured. Walk around and make sure all skirting is secured tightly to your unit.  Last but not least, make sure you have an agent to watch your place while you are away.
In closing, I have a question "Are you interested in being on a committee or volunteering for an activity?"  If so, please come to Koffee or see a board member.  Take it from me, the feeling of giving back is awesome.
Have a great day.... have fun, laugh often and make memories.


To All...
    Now that the elections are in the rearview mirror, I would like to thank you for your support and kind words. As you are aware, we will be starting two projects: the gate equipment replacement and the sealing of the roads. I know these projects will bring some inconvenience. Please be patient and focus on the finished product.
    Also, please get involved and come to the Board Workshops and activities around the park.
I look forward to seeing you and sharing ideas on how to improve our park.
                                                                                      Ron Chapman, Association Board President